Recognizing the Strength of Women in our Community
In 2018, we launched our PV Women's Network, with a vision to provide business women in our community with a platform for connection and support, while delivering programs that contribute to their personal and professional development and success.
We are continuing our interviews with Pallett Valo's women leaders, so that we may be inspired by their strength, leadership, and accomplishments.
---
Anna Esposito is a Member of the Construction Practice and Alternative Dispute Resolution Group.
Tell us about your position at Pallett Valo
I am a long-standing partner of the firm and a Member of the Construction Practice. I also provide services as a Mediator of construction disputes as part of the firm's Alternative Dispute Resolution Services Group. I am a former Managing Partner (2005-2010) and a former Deputy Managing Partner of the firm.
What are some of your biggest achievements/accomplishments within your legal career and why is this so important to you?
I'm proud to have created the firm's construction practice in the days when women lawyers practising in this male-dominated industry were rare. I'm prouder yet to have built a robust construction group that continues to grow to this day. My six years as Managing Partner of the firm were rewarding and challenging.
Along the way, I've had the pleasure to train, guide and mentor many young construction lawyers, and raise awareness about this specialty area of law. One of those young lawyers is my partner, Maria Ruberto, and I was pleased to hand over to her the role of Practice Group Head in 2017. I've been able to satisfy my love of teaching by conducting countless seminars for lawyers and construction industry professionals.
I was on the team which established the criteria for the Law Society of Ontario specialist designation for Construction Law and have held that designation since inception. I am a Fellow of the Canadian College of Construction Lawyers  and have been selected by my peers for inclusion in Best Lawyers for my work in Construction Law consecutively since 2006.  I am now bringing my years of experience and training to a new role as a Mediator of construction-related disputes.
You have worked for so many years as a Specialist within construction law – how do you plan to adapt to more of a mediation role within this field?
I have always been a huge supporter of alternative dispute resolution. As a litigation lawyer, my role includes sourcing and recommending the best options for the resolution of the dispute at hand. Often, the best option is something other than costly protracted litigation. For this reason, offering construction Mediation services is a natural, seamless progression for me.
---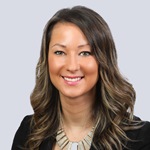 Dina Milivojevic is the Manager of Knowledge Management
Tell us about your position at Pallett Valo
I am Pallett Valo's Manager of Knowledge Management.  I recently transitioned into this role from my previous job as a member of the firm's Commercial Litigation and Restructuring & Insolvency groups.
In my current role, I manage the firm's internal resources and precedent system and work closely with the various practice groups to meet their knowledge management needs.  I also continue to conduct high-level research and assist with drafting documents such as research memoranda, legal opinions and written advocacy materials on select files.
What is your biggest achievement within your legal career and why is it so important to you?
During the course of my busy career as a practicing litigator at Pallett Valo and previously at a firm in downtown Toronto, I always found time to contribute to various legal publications as both an author and an editor.  I have written papers and articles on diverse legal topics including limitation periods, director and officer issues and the Canadian recognition of foreign proceedings.  In addition to helping build my profile, contributing to legal publications allowed me to learn about specific areas of the law that were of interest to me outside of file work.  I learned that I had a particular interest in insolvency law, and was able to write and learn about complex insolvency law issues even though I may not have been dealing with those issues in my practice at the time.  One day, I was surprised to find that an article I co-authored was cited in a decision by a judge of the Quebec Court of Appeal and my life officially peaked.
I would strongly recommend that students and young lawyers actively seek out opportunities to contribute to legal publications.  With the prevalence of online articles and blogs, the possibilities are endless and the time commitment is minimal.  It is an easy way for young legal professionals to gain exposure to different areas of the law or to begin to specialize in a particular area of the law.
Why did you choose to transition out of practice into the knowledge management role?
After several years of trying to fit a square peg in a round hole, I realized that I didn't want to be a practicing lawyer.  I also knew that I didn't want to leave the legal field entirely and really liked working at Pallett Valo.  Luckily, there was an opportunity to transition into a knowledge management role here, and that role was much more suited to my skill set and the parts of the law that I enjoyed.  My current role is a more administrative one, but I still learn about the law through my work with Pallett Valo's various practice groups and the research and drafting I do on certain files.
I recognize that I am lucky and that the transition out of practice is not always so easy.  That being said, I encourage young legal professionals (especially those who may be considering quitting the law altogether) to consider other avenues that may be available to them within or outside of their firms.
---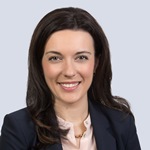 Andreea Muth is a Member of Pallett Valo's Business Law Group
Tell us about your position at Pallett Valo
I am a recent member of the Business Law practice group, having joined the firm in 2018 to focus on corporate and commercial law after three years in a general solicitor practice. I advise a variety of corporate clients, from start-ups to mature businesses, on all aspects of business law. I am also working towards my Trusts and Estates Practitioner designation and am developing a practice in trust and estate planning for business owners.
What are some of your biggest achievements/accomplishments within your legal career and why are these so important to you?
As lawyers, we are privileged to help our clients navigate complex and often stressful situations. But, when first starting out, and sometimes especially as a woman, it can feel scary and difficult to express yourself, whether advising a client or negotiating with more senior counsel. I am proud of finding that voice early on in my career by seeking out client-facing and increasingly independent responsibilities from law school onward, and persevering through the challenges of developing an authentic expression of myself to become a trusted advisor to clients.
How does your instructor role at Wilfrid Laurier University influence your practice?
Teaching keeps me on my toes! I completed an undergraduate degree in Economics at Wilfrid Laurier, so I know first-hand the quality of the school's business and economics programs. The students ask thoughtful questions and challenge the status quo, meaning I am continuously learning about the law and how to communicate effectively. Teaching also gives me insight into the next generation of business professionals (some of whom will hopefully also become lawyers) who will be forging their own paths soon enough.
---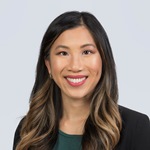 Marissa Mah is a Member of Pallett Valo's Business Law Group
Tell us about your position at Pallett Valo
I am a corporate lawyer at Pallett Valo.  I assist the senior associates and partners in a variety of corporate matters and transactions including mergers & acquisitions, corporate structuring and reorganizations.
What are some of your biggest achievements/accomplishments within your legal career and why is this so important to you?
In 2017, I completed my Masters in International Business Law and published a paper relating to law in international finance.  Achieving this degree represents the culmination of all the education and experiences I gained while studying in Canada, Hong Kong, and the United Kingdom.  The program combined my three academic interests: business and the law on the international stage, and it gave me the opportunity to explore niche areas like cross-border taxation, international trade, and international arbitration.  The publication was a tangible by-product of the hard work that went into achieving the LL.M. The degree and the publication are, in my eyes, the best conclusion to many years of studying.
You have just entered the legal profession as a qualified lawyer with Pallett Valo. What advice would you give to current students who are looking to follow the same career path?
Having received my law degree from Queen Mary, University of London, my journey to becoming a lawyer may be atypical, but a route that is nonetheless representative of many law students.  I have three pieces of advice for women on a similar path.  First, embrace your international education and use that knowledge to differentiate yourself.  Your extra knowledge of laws of another jurisdiction can be used to your advantage.  Also, network!  Coming from a different jurisdiction may mean you have minimal, if any, connections in the Ontario legal community.  Coffee dates are a great way to gain insight from lawyers about their practice and the characteristics they value in a candidate.  There are also a number of associations in the GTA that host events specifically for law students.  If you need to ease yourself into networking, bring a buddy and tag team an event. Fully immersing yourself in the community will help you adapt to the nuances of the local market.  Finally, one that I will always work on: foster relationships with other female professionals.  Women with more experience can be a great resource for advice in difficult times, and surrounding yourself with women at the same stage of their careers can provide a network of support and camaraderie.  Women in all professions face similar systemic and cultural challenges and listening to a variety of experiences and discussing different avenues of resolution can help you navigate your own career.  In short, collaborate with ambitious, confident women, encourage their success, and learn from them.