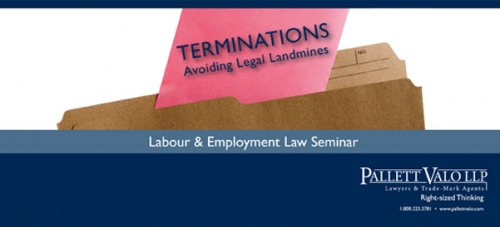 Labour & Employment Law Seminar
Terminations: Avoiding Legal Landmines
Presenter: Andy Balaura, LL.B. and Jeffrey Percival, LL.B, LL.M (January)
Dates: Wednesday, October 13th,2010 (sold out), Wednesday, November 10th, 2010 (sold out), March 3rd, 2011 (sold out), January 26, 2011 (sold out),
Time: 8:00 am – 10:00 am
Location: Pallett Valo LLP
90 Burnhamthorpe Road West, Suite 1600, Mississauga, ON L5B 3C3
Topics covered include:
• Lay-offs and recalls

• Contract employees

• The Injured or Disabled Employee

• Defining just cause

• Avoiding Punitive Damage and Human Rights violation claims
• Best practices for severance offers and notice periods
Cost: $75 (includes seminar, materials, parking, breakfast)
Registration is required as space is limited.
Enroll at events@pallettvalo.com or 905-273-3022 Ext. 305
This seminar counts towards your required CHRP recertification points.